MARBLE AND STONE POLISHING
WHY DOES MY MARBLE LOOK SO DULL?
Marble is one of the most beautiful natural stones in the world. This stone has the power to enhance the look and add a touch of exclusivity to any space we use it to decorate.
Being a Natural organism, it reacts chemically to any other substance that comes into contact or is expose to. Wether acidic substances such as Soda, CLR, Orange Juice or Alkaline substance such as Soap, Mr. Clean, Vinegar… they all will react at a chemical level with the stone causing what is known as Etching.
Etching is the annoying, dull-looking stains that look like dropplets or ring marks that cannot be removed by normal cleaning techniques,  specially Marble pieces found in Countertops, Islands and bathroom Vanities.
Marble is also very sensitive when it comes to scratches, thus, creating what is known as traffic lanes. These traffic lanes are a combination of light scratches and deep scratches in the surface. These  generally come from the little-bit pieces of rocks, and debris caught under neath our shoes on our everyday life outside our house, and when we walk on top of the Marble surface with these contaminated shoes, we are dragging these pieces of rocks and debris all across the floor. Little by little, we start to see the scratch accumulation in the areas we walk the most also known as Traffic Lanes.
After some time, the amount of stains and scratches becomes really noticeable up to a point when it becomes annoying to look at. Adding the frustration of not being able to remove these stains, marks and scratches no matter how much we scrub them, wipe them or chemical we use, thats when our clients turn to the Stonerenewal TEAM, and let us bring the life back to your Marble and the high-gloss reflective finish we all love!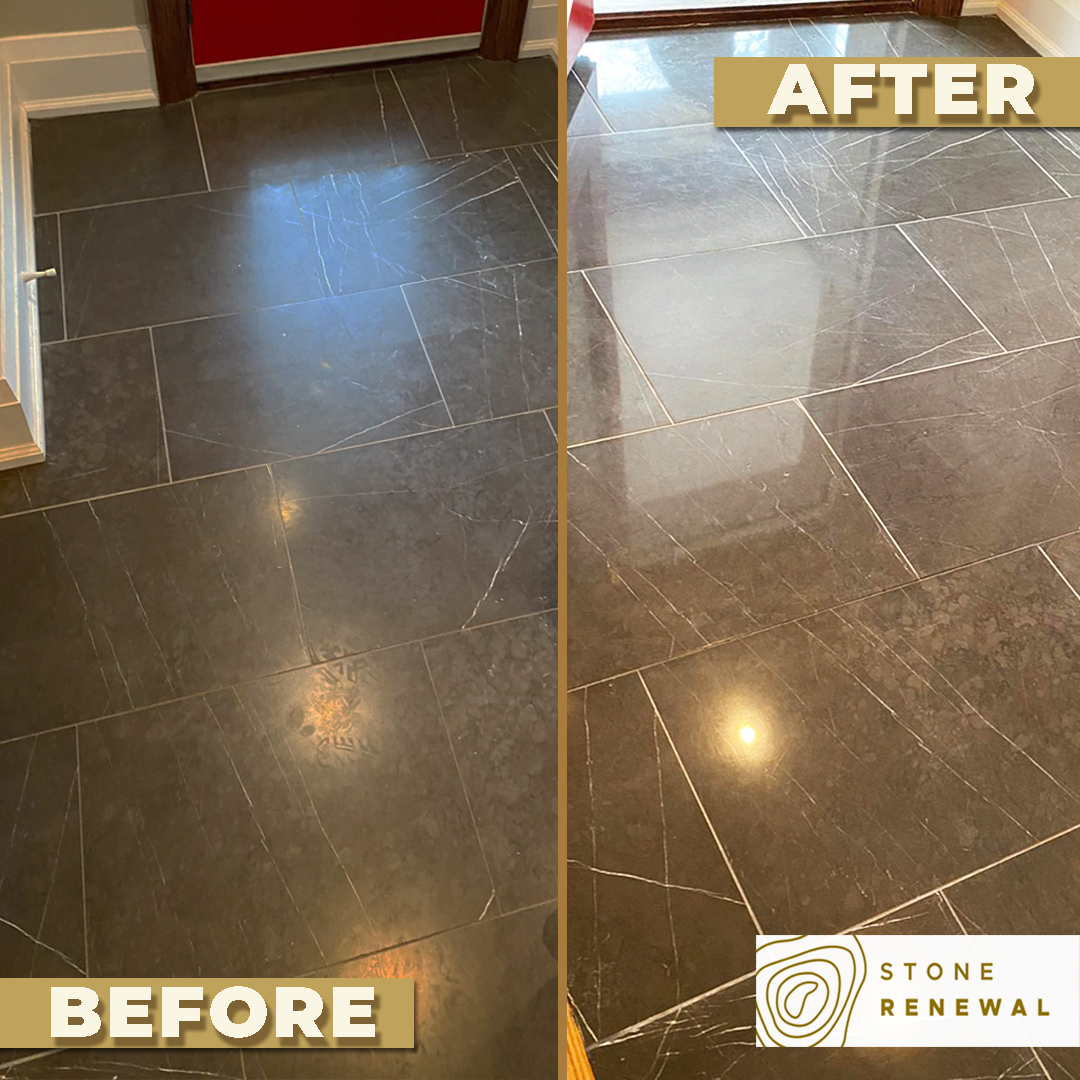 Only removes a stains and fine scratches. In this process, the Floor machine will have a polishing pad and a Polishing Compound cream to agitate and exfoliate the sone. It gives a great shine to the floor and it's used more as a maintenance procedure. This process its more affordable and people like it because it's a budget friendly process.  It's also a faster process. Where a Full Restoration will take 8hrs, simple polish will take 4hrs or less. So thats 2X faster and it comes in handy when dealing with large spaces and not a lot of time to work on them.


This is the process used to bring the Marble back to NEW CONDITION. yes, literally NEW! unlike the Simple Polish, this process removes 100% Scratches and 100% stains and everything in between. In this process we remove the Dirty, Used and Trashed top layer of the stone. To do this use Metal Disks, Dimond Disks, Polishing Discs and then The Polishing Pad with Polish Cream.
Yes, this is the whole 'enchilada'. This process although it costs more, it's definitely worth every penny if what your looking to get it's Brand New floors | vanities | countertops again!